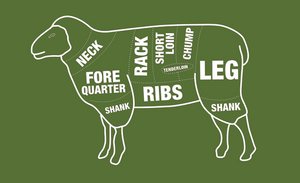 PRE-ORDER this box today and it will be dispatched from Wednesday 1st July onwards and delivered to your door within 24-48 hours. Please note to ensure weekend delivery please order by end of play on Tuesday, your meat feast box will be dispatched first thing on Wednesday and arrive to you on Thursday.
Our amazing wool packaging will keep your freshly frozen meat frozen so you can wedge it in the freezer upon arrival! The day we receive our meat back from our butcher we send out orders same day and then everything else is "freshly frozen" so that we maximise the quality of the meat for when it arrives to you.
Our lamb is from our own flock of Jacob sheep grazed alongside the cattle and specifically chosen for their suitability to our farm, this environment and our farming methods, they have an exceptionally full flavour which is often described as slightly sweeter than commercial breeds, it is also leaner than most breeds and hence does not get too fatty which can often be a problem with lamb.
Jacob lamb:
1 x shoulder of lamb  - approx 3.5kg - £16/kg - worth £56
OR 
1 x leg of lamb - approx 3kg - £20/kg - worth £60
6 - 8 x chops/cutlets - approx 950g - £24.5/kg - worth £23
4 x lamb burgers (gluten free) - peppers, onion, fresh garlic, fresh coriander & mint, chillies, cumin and lemon - handmade by us on the farm -  £7/for 2 
4 x merguez sausages (spicy and full of flavour) no nasty preservatives (nitrites), 100% meat sausages - gluten and dairy free - handmade by us on the farm - £5
Not sure what the kids will eat?
Why not add kids burgers to your order, they can be served as burgers or rolled in meatballs or hacked to bits to make a spag bol. Packed with hidden veg (carrots/courgette) and our homemade tom sauce for extra natural sweetness.
Whilst we figure out the technical joys of adding extra cuts to this meat box please contact Shayla directly and we'll get them added to your order, additional cuts available:
beef - sirloin steaks, rump steaks, fillet steak, flat iron steak, criollo sausages, kids GF beef burgers (packed with hidden veggies!) or short ribs
lamb - merguez sausages and lamb burgers
If you are need of some inspiration head over to our recipes page where you can have a look at Head Chef Ross's suggestions for how you could prepare your delicious meat!