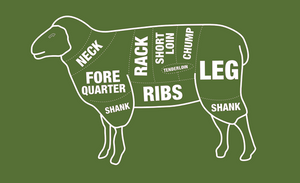 PRE-ORDER this box today and it will be dispatched on Wednesday 24th June and delivered to your door within 24-48 hours.
Or alternatively order the frozen version of this box and add your name to the newsletter below if you want to be updated with our next fresh lamb delivery which will be in the next few weeks.
Our lamb is from our own flock of Jacob sheep grazed alongside the cattle and specifically chosen for their suitability to our farm, this environment and our farming methods, they have an exceptionally full flavour which is often described as slightly sweeter than commercial breeds, it is also leaner than most breeds and hence does not get too fatty which can often be a problem with lamb.
This box contains a whole lamb
1 piece of lamb neck - approx 700g
2 x half shoulders (knuckle) - approx 900g each 
2 x half shoulders (blade) - approx 1kg each
2 x 4 bone racks - approx 370g
2 x 3 bone racks - approx 200g
2 x fillet of lamb - approx 240g
2 x lamb rumps (chumps) - approx 320g
8 x topside lamb leg steaks - approx 700g
2 x shanks - approx 300g each
Minced lamb - approx 1.5 kg 
Whilst we figure out the technical joys of adding extra cuts to this meat box please contact Shayla directly and we'll get them added to your order, additional cuts available:
beef - sirloin steaks, rump steaks, fillet steak, flat iron steak, criollo sausages, kids GF beef burgers (packed with hidden veggies!) or short ribs
lamb - merguez sausages and lamb burgers
If you are need of some inspiration head over to our recipes page where you can have a look at Head Chef Ross's suggestions for how you could prepare your delicious meat!