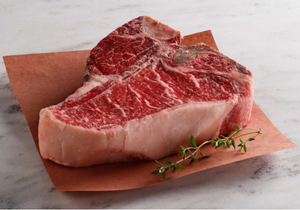 Our amazing wool packaging will keep your fresh frozen meat lovely and cold and frozen when delivered within 24 hours.
All our beef is from our own pedigree herd of Aberdeen Angus cattle that have been selected for their eating quality, they are grass fed on the farm and the meat is dry aged for a minimum of 21 days to develop beef of the highest quality and finest flavour.
What is in the box?
A stunning 3 inch bistecca alla Fiorentina - a T-bone steak with a sirloin on one side and the fillet on the other - serves up to 4 (£40/kg)
Typically served rare this steak is known as the Queen of Steaks due to its size and exquisite flavour. Usually served in the middle of the table shared between friends.
The Florentines eat their steak with cannellini beans, toasted bread, a crunchy salad and roast potatoes.
How to cook the beast
We recommend taking steaks out so that they reach room temperature, season with salt and pepper and cook on a very hot pan/grill/bbq - 5 minutes on each side and allow to rest in a warm area for 5-10 mintues.
Add a bag of locally made charcoal from birch, oak and hazel - ethical choice no nasties 100% charcoal 
Not sure what the kids will eat?
Why not add kids burgers to your order, they can be served as burgers or rolled in meatballs or hacked to bits to make a spag bol. Packed with hidden veg (carrots/courgette) and our homemade tom sauce for extra natural sweetness. 
Whilst we figure out the technical joys of adding extra cuts to this meat box please contact Shayla directly and we'll get them added to your order, additional cuts available:
beef - sirloin steaks, rump steaks, fillet steak, flat iron steak, criollo sausages, kids GF beef burgers (packed with hidden veggies!) or short ribs
lamb - merguez sausages and lamb burgers